Latest BrutalPickups.com Updates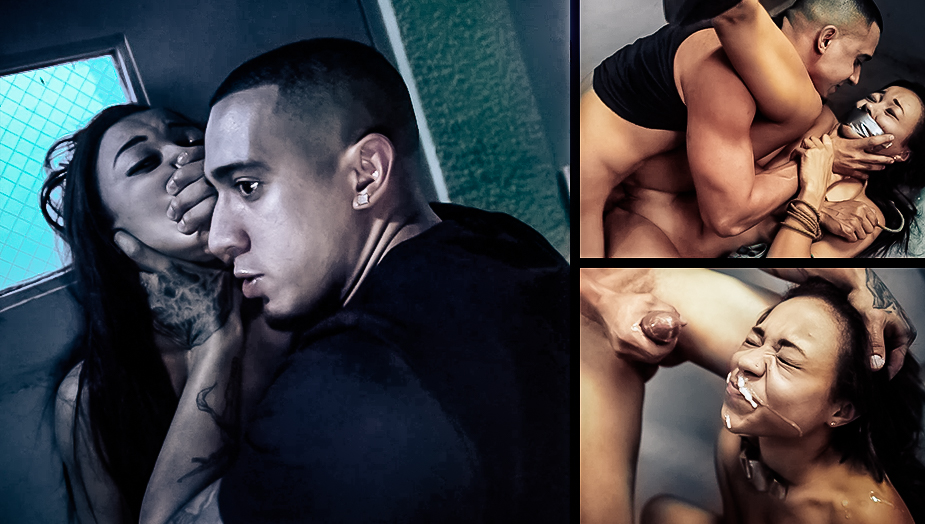 Adrian Maya is a sweet piece of ass with her exotic looks and curvy body. She's also petite and compact, and seems to have been custom made for a Master Bruno hardcore pounding? and she gets one! Seems her car has been towed and she has no way to get home. She finds Bruno hanging out on a corner and begs him for help. She says she'll do ANYTHING to get home, and Bruno intends to find out exactly that. He takes her to a nearby building and ties her hands with rope to a chain dangling from the ceiling of a dirty, dimly lit stairwell that looks like something out of a horror movie. He rips her clothes off and gruffly paws and sucks her bald brown beaver before fingerblasting it while also spitting in her mouth. After that, Bruno tapes her mouth shut and rails her doggie style, ratcheting up her total submission and humiliation. A savage deepthroat blowjob and a lengthy rough sex session finishes with a big chunky load and an unforgettable cum swallowing sequence.
Khloe Kapri
August 16, 2018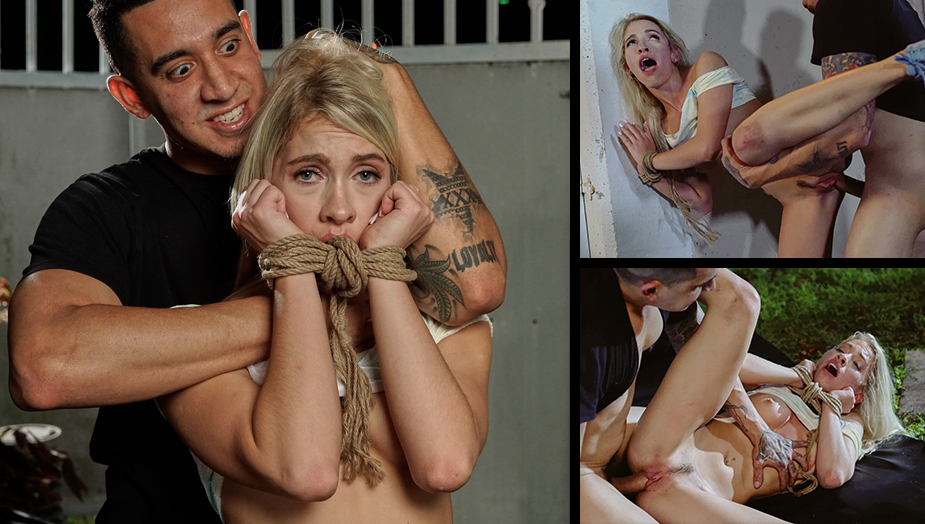 Cute blond brat Khloe Kapri is really making a ruckus while Bruno is trying to relax in his yard. First she gets into a loud fight with her asshole boyfriend who ditches her in the street then she has the nerve to beg Bruno to help her figure out a way home. Rowdy little slut! Bruno only girls who help him. In a flash she's taken behind his fence, tied up, and and savagely fucked like the fuck-meat she is. Bruno hammers her tight young cunt without mercy then dumps a huge load on her face.
Stranded young hottie Alex Blake finds herself stuck in an unfamiliar and very scary-looking part of town. She asks the wrong stranger for gas money and when he turns her down she gets on her knees and begs. Bad move, slut! Seeing her desperation, he agrees to help her if she'll sexually submit. Seconds later she's tied up and brutally fucked in a some back alley like a whore. He slams her tight pussy extremely hard in several positions then soaks her with a big facial cum-shot.
Cristi Ann may be a little too cute and sweet for the sexual brutalization she's going to receive at the hands of Master Bruno in a dirty back alley under the highway. It's one thing to be ravaged in the privacy of one's own home, but it's quite another to have it done publicly outdoors in front of anyone passing by. At 23, Cristi says she has never had rough sex before, but she's lost in a strange town with no car and even less options, so she has to do whatever it takes to get home. Spanking, slapping, being spit on, and ordered to give a deepthroat blowjob that makes her choke are just the warm up domination for the main event of BDSM humiliation, and her transformation into becoming Master Bruno's sex slave. She offers Bruno her ample tits and he viciously slaps and gropes them. Next, he fingerfucks her hard and gives her several orgasms. She loves it, so he ties her hands, duct tapes her mouth and throws her on top of a garbage can and brutally pounds her fuckholes from behind. He finishes up by making a gooey creampie deep in her cunt which he makes her dig out with her fingers and eat. Not so sweet and cute anymore, huh?