Latest BrutalPickups.com Updates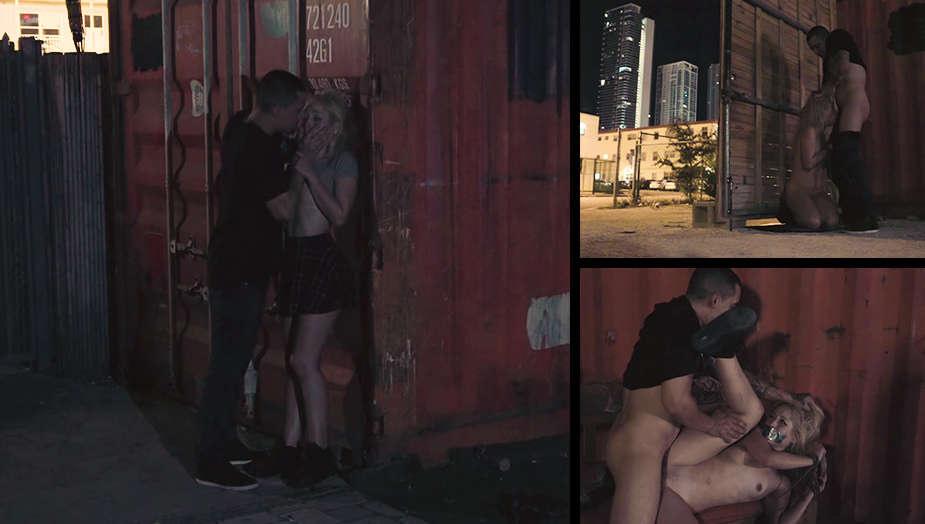 Poor Goldie. Always in the wrong place at the wrong time. This time, we find our favorite sex slave looking hotter than ever and wandering around the dark streets of a bad neighborhood, lost and crying. It just so happens, Bruno is hanging out in a nearby alley. Goldie begs him for help, but Bruno repeatedly tells the desperate slut that he can't help her, and that he is NOT a nice guy. Goldie persists, and soon finds out that Bruno wasn't lying as he drags her into an alley by her hair and ties her with rope to a cargo container. He rips her clothes off and savagely gropes her naked tits and pussy. Goldie sobs as Bruno fucks her sweet, little hairless pussy with his big, mean tattooed fingers. Next, he pulls out his fat hard cock and slaps her face before roughly deepthroat fucking her mouth and spanking her welted ass. The duct tape comes out and Bruno tapes Goldie's ankles together and her mouth shut for the shocking final assault. Goldie's public sex humiliation has just begun!
Holly Hendrix
March 17, 2016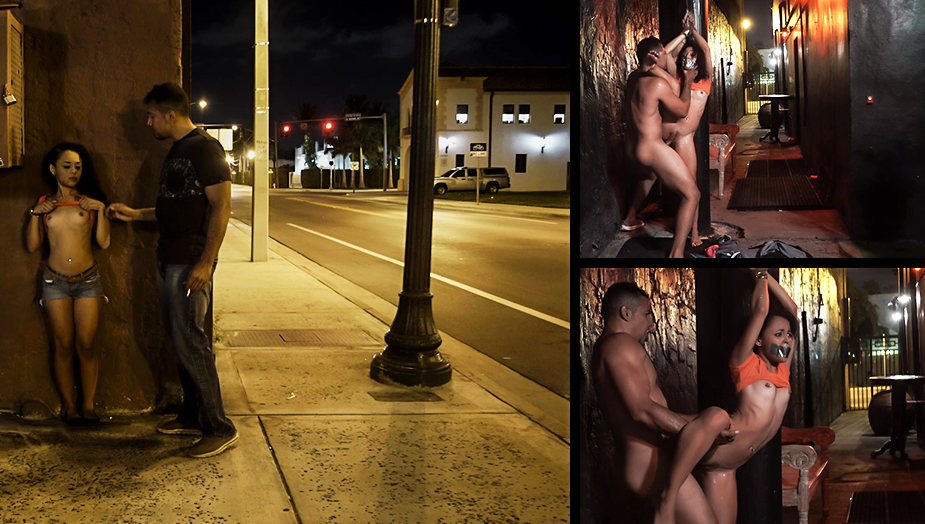 Fresh teen pussy like the one Holly Hendrix is sitting on, is one of the best things in life, and this sweet 18-year-old peach from Savannah, Georgia already has a big appetite for crazy, wild, kinky hardcore sex. All of 4, 9, and 89 pounds, Holly is a classic spinner that our lucky man J.B. is gonna? fuck hard and roughly in a scary, dark alley while she?s tied with rope to a drainpipe. After a deepthroat face fucking, the dirty little submissive with pierced nipples gets hammered and pounded in a dozen crazy positions as J.B. literally turns her into a gummy whore after she makes the mistake of asking him for help. She won't make that mistake again, or will she? She can barely take his big cock in her tiny pussy, but she doesn't have much time to think about how much it hurts as J.B. slaps her face and spanks her ass before dumping a big hot load on her humiliated face.
Sabrina Banks
March 10, 2016
Who would ever think that a cash machine would be a good place to meet potential submissive sex slaves? Well, in Bruno's world, anywhere is a good place to meet extreme teen sex sluts to break down with rough sex and humiliate. Sabrina is a verrrrry cute brunette babe with a super nice body, and she is broke, scared and desperate to get home. She begs Bruno for a few dollars to get home, and he tells her he can't help her. Sabrina keeps begging for help, so Bruno takes her into a nearby office building where she deepthroats his cock in the doorway. After the public sex suck-off, Bruno throws her into an elevator and savagely tears her clothes off and gropes her tits and pussy before brutally fucking her from behind. When the elevator arrives at the roof, Bruno drags Sabrina across the gravel roof and continues her intense and total humiliation tying her hands with rope and taping her mouth shut before fucking her rotten and firing a huge load into her mouth which she obediently swallows. Good whore!
Adrian Maya
March 3, 2016
Adrian Maya is a sweet piece of ass with her exotic looks and curvy body. She's also petite and compact, and seems to have been custom made for a Master Bruno hardcore pounding? and she gets one! Seems her car has been towed and she has no way to get home. She finds Bruno hanging out on a corner and begs him for help. She says she'll do ANYTHING to get home, and Bruno intends to find out exactly that. He takes her to a nearby building and ties her hands with rope to a chain dangling from the ceiling of a dirty, dimly lit stairwell that looks like something out of a horror movie. He rips her clothes off and gruffly paws and sucks her bald brown beaver before fingerblasting it while also spitting in her mouth. After that, Bruno tapes her mouth shut and rails her doggie style, ratcheting up her total submission and humiliation. A savage deepthroat blowjob and a lengthy rough sex session finishes with a big chunky load and an unforgettable cum swallowing sequence.