Latest BrutalPickups.com Updates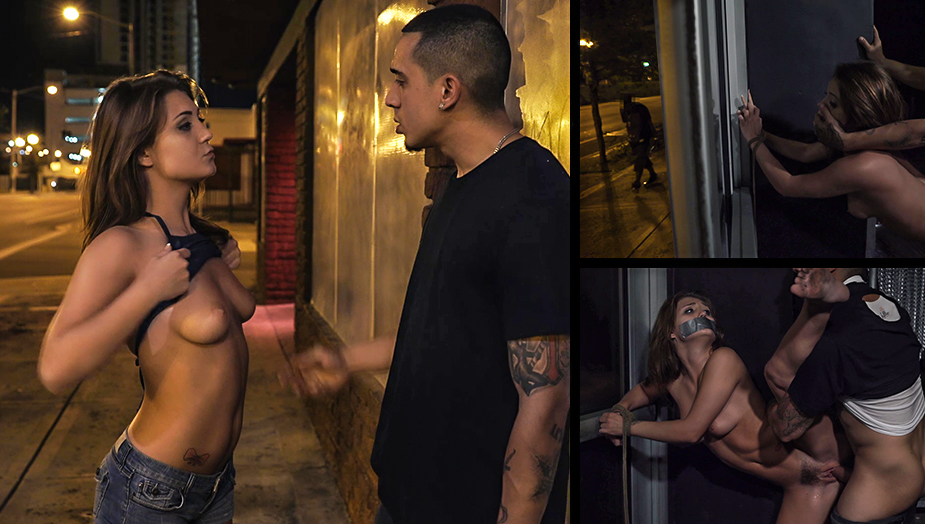 Smokey-eyed honey, JoJo Kiss is broke and alone and wandering the mean streets of a shitty ghetto desperate to get back to safety. Anything could happen out here, and none of it is good. Asking the wrong person for assistance could be fatal, but she has no choice. She spots Bruno smoking a cigarette on the street and begs for help. He listens to her, but isn't friendly? at all! Bruno blows smoke in her face and drags her into the doorway of a building by her hair. He pulls her shirt up and her shorts down and shoves his huge cock into her naked pussy. He ties her hands with rope and tapes her mouth shut with duct tape. Master Bruno puts JoJo through every hardcore humiliation possible, concluding with a lengthy rough sex session in plain view of everyone. Nothing like extreme teen public sex. When he finally glazes her face and tits with his cum, he throws a few dollars at her for a cab ride home. Not so bad after all!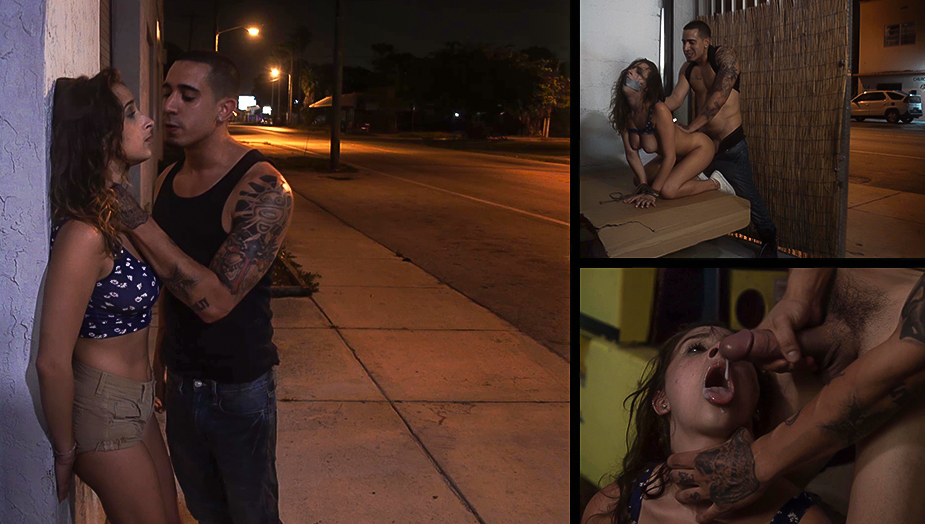 Left behind at a house party in a bad neighborhood, lovely young Ashley Adams is scared for her life. Good thing she finds Bruno lurking in an alley, or is it? Ash tells Master Bruno how scared and desperate she is, but does it work? Well, it depends on which end of the cock she finds herself. Bruno asserts his dominance by spitting in her face and roughly groping her tits and pussy. He puts the frightened teen into a half nelson and pushes her into the alley where he rips her shorts and t-shirt off and fingerfucks her pussy with one hand while also corkscrewing some fingers into her asshole with the other. Naked and humiliated, Ashley has no choice but to let Bruno continue transforming her into a whimpering sex slave. Ashley has magnificent, large, natural tits and Bruno delights in slapping those big funbags raw. Next, he feeds her his big dick and she dutifully deepthroats it until he shoots his cum all over her face and tits.
Anya Olsen
April 20, 2022
Rough outdoor public sex is Anya Olsen's only option as she finds herself in a bad area after hours and without any way to get home. Bruno is always equipped with an extra roll of duct tape and some rope for just such an occasion, and tonight is going to be one of those occasions as the innocent teen Anya happens upon Bruno hanging out on the street. After some back and forth with Anya begging for help, Bruno grabs her by the throat and drags her to a big chainlink fence where he ties her arms over her head with rope and ravages and humiliates her in full view of cars and trucks cruising by. Very hot deepthroat pre-fuck blowjob is punctuated by Bruno slapping Anya's tits. Hardcore reverse cowgirl action follows and this dirty party ends with a big white hot load of Bruno's special sauce going down Anya's throat. Good to the last drop!
Gina Valentina
September 1, 2021
Petite, tattooed, and very pretty, Gina Valentina is the kind of girl that actually means it when she says she'll do anything in exchange for Bruno's help. Even if she doesn't really mean it, Bruno doesn't care. He's going to do whatever he wants to her anyway, because he's the master. Gina's desperate, so Bruno decides to humiliate her with a rough public sex session. He drags her into the dark corner of a building where he makes her pull her shorts down and show him her bare ass. He manhandles her small pierced tits in full view of passing cars and pedestrians. He spanks her ass and slaps her tits, thighs and face, and ties her hands with rope. She gets on her knees and sucks his thick cock. He slams her head against the wall repeatedly as he viciously deepthroat fucks her mouth. Next, he throws her over a box and pounds her out doggie style long and hard until he gushes a giant load into her mouth. A super hot scene!